All about your profile
Your profile stores the basic information, that, more than likely, you would otherwise have to duplicate time and time again.
Information such as your name, business name, social media, event organsier contact email and website addresses, your insurance details, risk assessment and other uploaded documents, images, spreadsheets etc.
To find your profile, to check/make any changes,
Sign in
Click on the Exhibitors tab
Click on My exhibitor profile
This will open up a new page that looks like this

5. Changed anything in your profile? Always click 'Update profile' at the bottom of the page!
As long as you are registered we can save your details as you go along, helping to auto complete your first application form. For your next application, when you sign in, we will recognise who you are and bring up the pre-saved information - this saves you having to fill it all in again.
We create a small public profile page for you visable on search engines, this is accessible from the Exhibitor Traders list and is used as a shortcut to your social media and website profiles for Organisers. You can also click on the 'View exhibitor page' to view this (see above image on the right, in purple).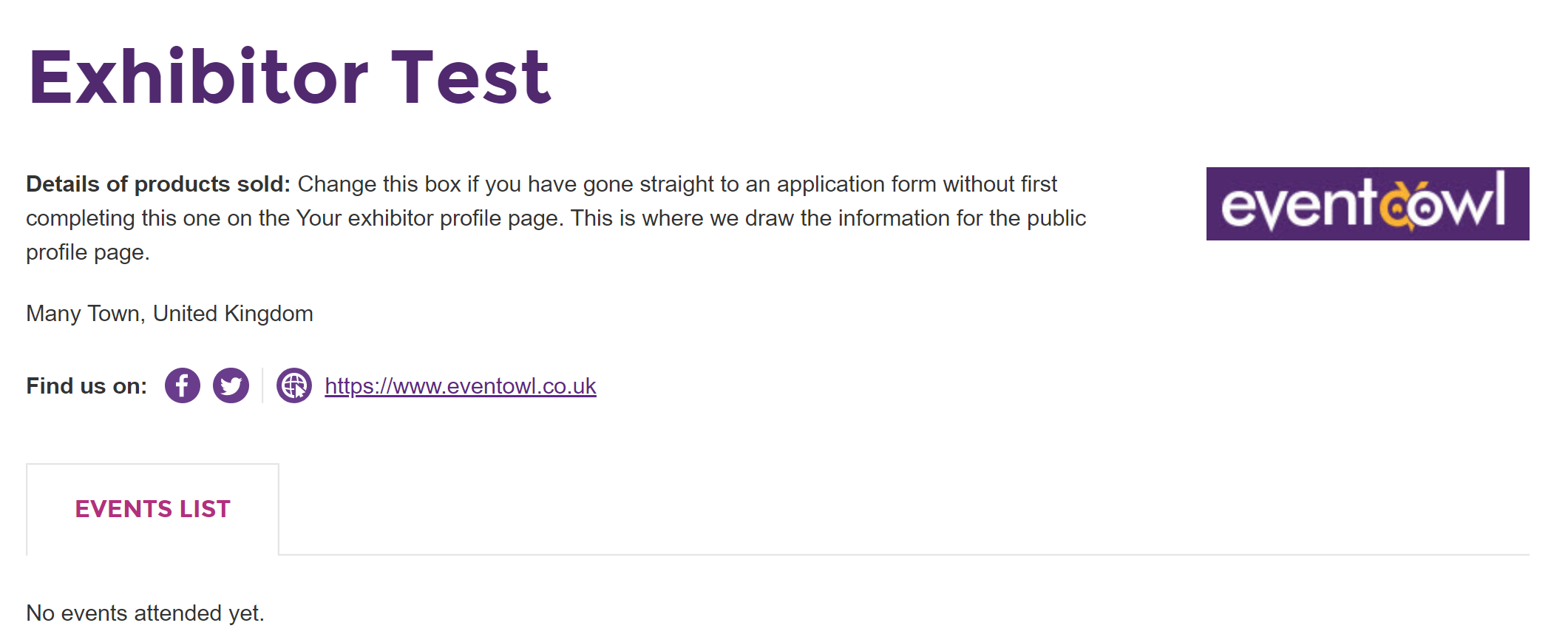 We advise that you read the 'Exhibitor user guide' (which we reccommend in your welcome email) and complete the Your Exhibitor Profile page before starting out.
You will need your risk assessment (A template for a risk assessment is in the Downloads area in the footer of this page), your public liability insurance certificate and a Covid 19 Policy Statement (a template is in the Downloads are in the footer) all uploaded on your device. For uploading Risk Assessments, Insurance information and other documents, images etc see 'Uploading/­Renewing Your documents' in our user guide. Each year we will remind you to renew your Insurance documents.
Apart from that just complete all the boxes presented on the profile page.
However, if you complete your first application form without first completing the profile page, we will save this information from the form and use it for the public profile page.
Once you have sent your first application form you can alter the 'Details of products sold box' in your profile page at any time.

This new wording will be used instead for the Public Profile page. Subsequent application forms will pick up previous application form information. Anything saved will take a short while for the various search engines (Google, Bing, Edge etc.) to pick up and alter.
We advise that you check Your Profile page periodically to edit and delete old information and documents, it also helps us save critical disc space. Every year Event Owl deletes obsolete insurance documents as standard. You can imagine how many insurance documents we store and this can be the equivalent of a filing cabinet of A4 paper!
You can create multiple exhibitor profiles under one login email address - perfect for businesses with teams representing the company, who go out each weekend to various shows.
Please ensure your social accounts are entered as FULL http address/es. Just open your website/social account address on the top navigation address bar and cut and paste into the field required.
Note: To change your sign in email address, you need to use the change email boxes area - found by clicking on your name - top right and not in your Exhibitor profile. The two areas do different things.