Finished creating your event? The next step
Once you have completed all the steps, click the 'Send for approval' button where we will check the form for you. We will highlight anything that could detract from your listing, your t's and c's, however should be legally sound and fair to both yourself and the traders before accepting bookings.
Upon your event being approved, we will send you an email; please double check:
The dates are all correct – event dates, deadline dates, and deposit scheme balance due date (if used).
Your Exhibitor packages are correct, and all packages have a reveal description – this is added to the sales receipts e.g. Grass surface. Electric provision not included. 2 x Trade Exhibitor passes. 1 x vehicle pass. No tables, gazebo or chairs included.
You have ticked to accept the Event Owl admin fee, which we will set at the appropriate level according to your event type, and we strongly recommend absorbing the Stripe fee too.
You can then choose when the event goes "live" to take bookings by signing into your account, and click on the "Make Live" link next to the events listing.
What happens after you make your event live?
Self - Promotion
1.Provide a link from your website to your Event Owl event page, or why not embed the booking form on your website? We provide the iFrame information for you. Please do this on your trader information page so that it does not confuse your site visitors with ticket sales.
2. Promote your Event Owl webpage to traders on the usual social media means, and interact with us by sharing and liking etc.
3. Event Owl is only another tool in your event promotion/­marketing box; we are not responsible for the success of your marketing campaign or your event footfall. If you require such services, we can recommend experienced event promotion partners to you whom we have used ourselves.
First application
4. We will notify you by email when you receive your first trader application. This application will be on your dashboard.
5. Sign in, go to the Organisers tab, select Organised events and you will see in the far left column that you have Exhibitors highlighted in bold; please click on this.

6. This will bring up your Exhibitor applicants list.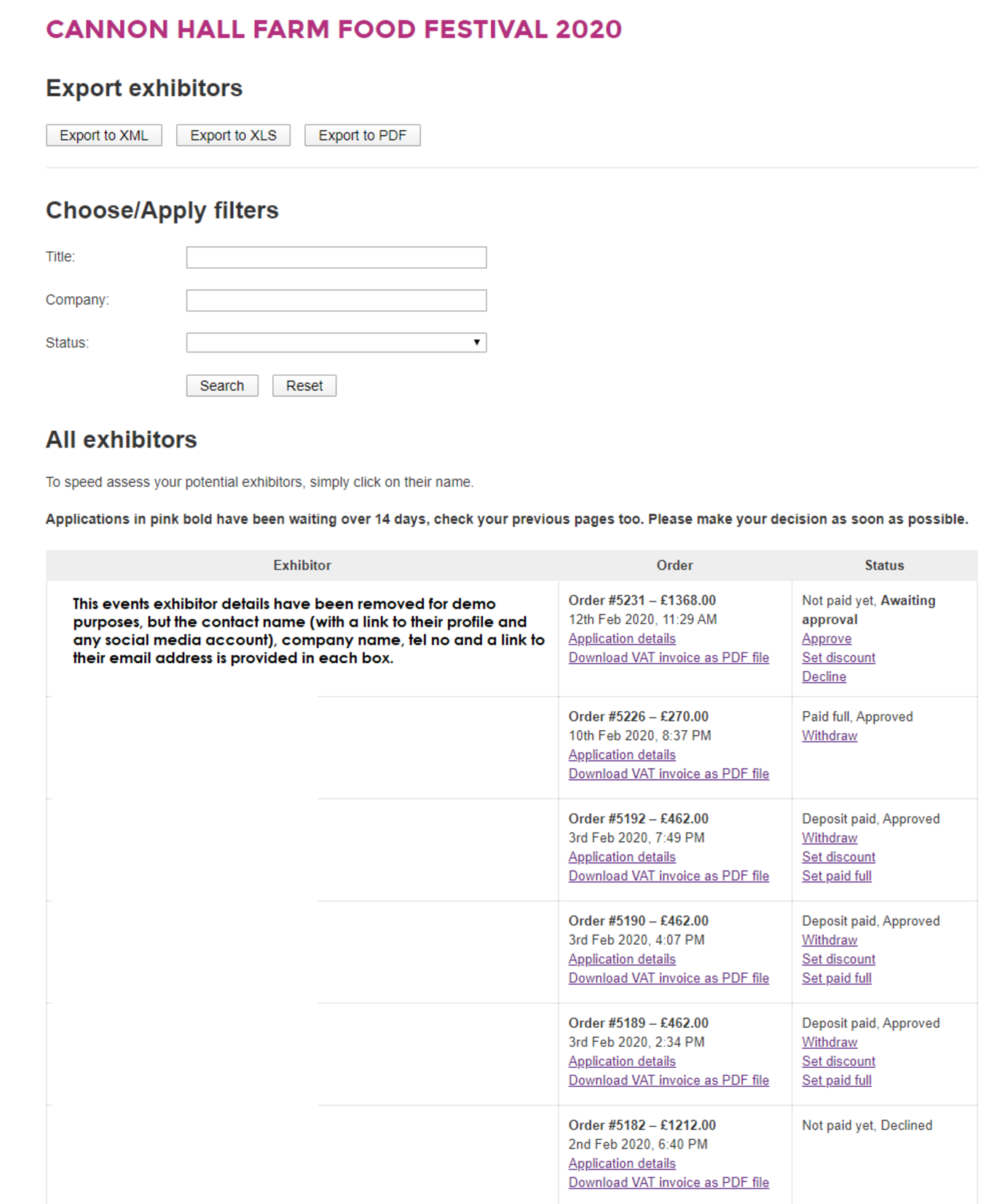 7. Click into each one to review their application – please check their insurance box data marries with their insurance document, risk assessment, and any other industry-related certificates. Their stand/pitch information is on their Download VAT invoice as a PDF file.
8. If you need to add a discount at this stage (if you have not given the event trader a code beforehand), you must do this using the Set discount option in the right hand column. This discount area can be utilised in two ways; for the not yet approved orders as the discount will be applied to the card payment upon your approval, and once approved, you can also add it to any deposit paid approvals as the discount is applied to the balance due. Discounts are only applied to those paying in full at the time of approval, otherwise the discount is applied to their balance due payment later.
9. If they meet your approval, click Approve. If not, or you have sufficient in that category, click Decline, and we will let them know. If they are declined, do expect some traders to ask why.
Payment process
10. If you click Approve, we then validate the trader's card. If the card is validated (e.g. there are insufficient funds to cover the transaction) the payment is processed, and you will receive either their deposit or payment in full, whichever they decided during their check out time.
11. The first wave of payments through Stripe, our payment gateway takes apx 10 days to reach your bank account after you approve the Exhibitor, this then becomes faster and delivered daily, usually 5 - 7 days behind.
12. If an Exhibitors card is declined, we send both yourself and the trader an email to this effect. They get full instruction on how to correct this payment. We attempt to take payment twice automatically. We advise that their pitch/space is not reserved until a payment has been received. We do not continue the chase for payment, so a direct email/phonecall from an organiser usually speeds up the process. Make sure all have paid their deposit before your balance due date or the Traders will need to make two consecutive payments on the same day.
13. If the payment is made, we then send the Exhibitor an email advising that they have now been approved, and that they now fall within your event terms and conditions, that you'll be in touch with further information nearer the event date.
14. Only if approved and a payment is processed will we place their sales receipt – on your behalf – in their dashboard, you also have a copy. Please do not send a copy of your receipt, as yours includes your selected Stripe Fee and our Event Owl fee figures.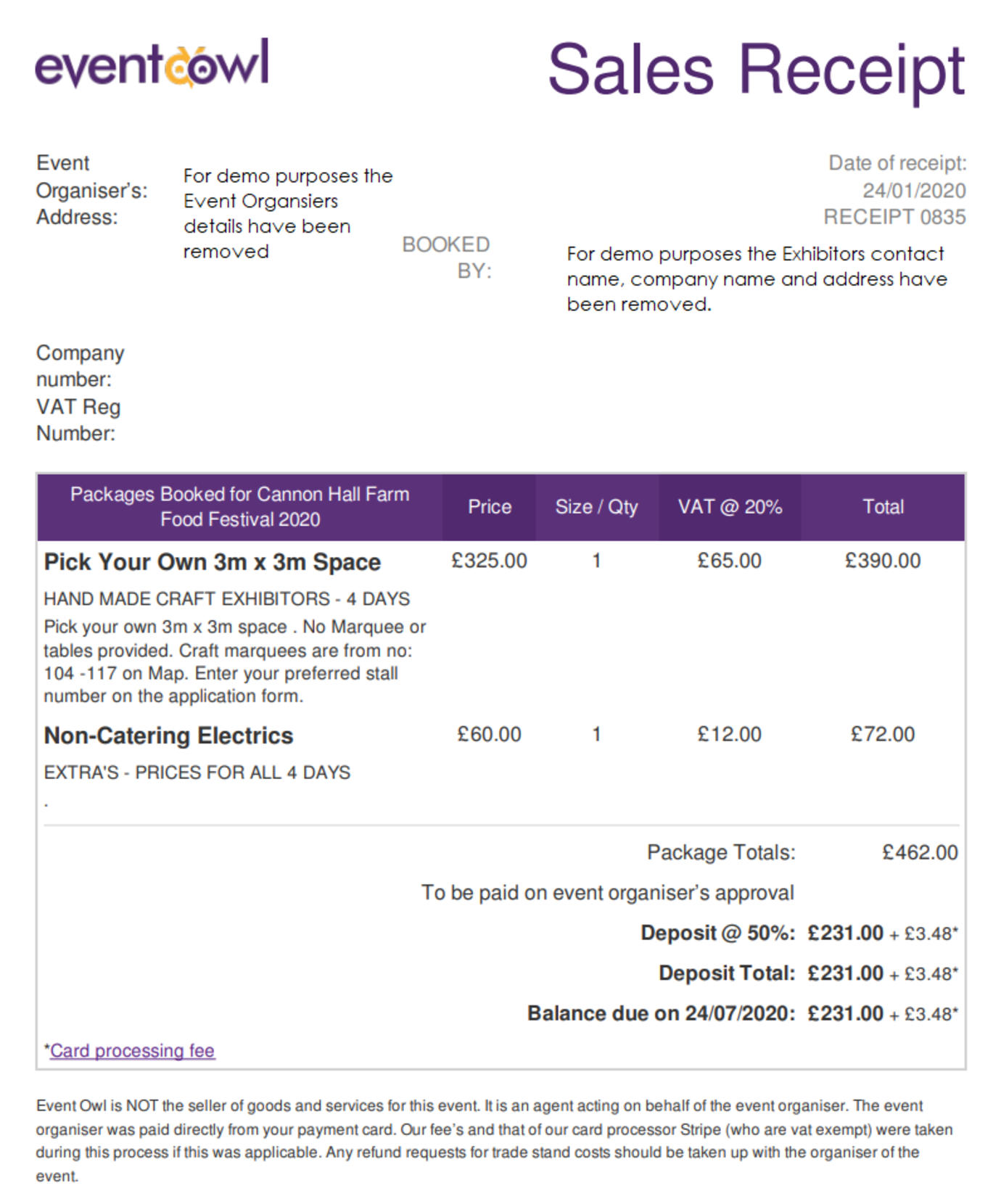 13. If they paid a deposit we will remind them 10 days before its due, and then if the card payment fails, we follow a similar process to obtain their payment as before. Advising everyone concerned.
14. Likewise we follow a similar procedure if their insurance runs out and they do not update their profile. As soon as they do update this, it updates at your side too.
That's the process – we do the majority of the work for you as you can see.
When you receive your first application, there will be three forms of spreadsheet made available to you to download. Any question, package etc. purchased will be reflected, so to the application and the payment status.
We have some FAQ's under the Organsier tab, a user guide which you might have found there too, but for anything else please contact our team. Email us with as much detail as possible, email is best so we then then have more detail on the problem, and forward it to the relevant team member.