Our deposit scheme
Offering a deposit scheme is very handy for you and your exhibitors, it helps you to attract the early birds and for exhibitors, to spread the cost. We currently operate a deposit upon approval, pay later balance due date plan.
Step 1 - Create your event OR send your event trade stand application form information to our team, complete with images, terms and conditions, images, logo's etc
Step 2 - On the business details page select a date your applications will cease - this can be the day before, however, we cannot guarantee money will be paid if this date is less than two weeks prior to the event. This is due to the fact that we cannot foresee your traders business needs.
Step 3 - On the Exhibitor Package area, check the box below

Step 4 - The boxes require specific dates from you.
Active from is the date you want to go live with the scheme.
Active until is the date you wish to take the deposit scheme off your site and have anyone else pay in full. We will remove the deposit scheme option at check out. We suggest no less than 45 days prior to your event.
Balance due date is the day you need all deposit payers to pay their balances. We suggest no less than 35 days before your event.

Step 5 - In the Deposit rate box type the deposit rate in %. We will, at check out, calculate this for the exhibitor based on their total stand costs. % is better that £ due to the cost of the total order, not the stand per se.
Step 6 - At the bottom of the page, Click Save.
What happens then?
Event Owl creates a deposit payment option at 'checkout' for the exhibitor. You will be able to see if the exhibitor has paid a deposit or paid in full on your list.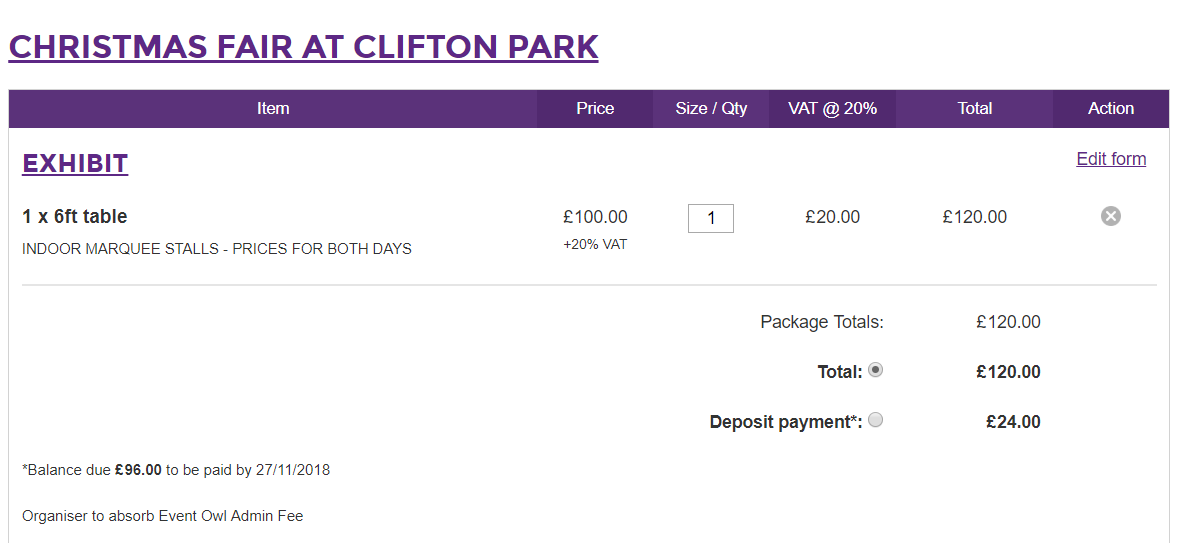 Upon your approving the application, the deposit payment is taken and if all is well, we send the exhibitor their approval email and a reminder about their balance due date. This is also displayed on their receipt.
Event Owl automatically sends both reminders about the due date, and warnings to the exhibitor if their deposit or balance due payment fails. We remind the exhibitor of their obligations and provide instruction on how to rectify this 'oversight'.
99% of exhibitors using the scheme (and this applies to any form of 'credit' payment offer, be this any online or on a paper system) will pay on time, the remaining 1% will be chased for you.
We will steer you in the right direction if our chasing fails, and you may need to make a decision as to whether you still require the none payers attendance.
The deposit and balance payments are paid into your bank account at the same pace rate as payment in full i.e seven days after your clicking 'Approve'.