Our deposit scheme
Offering a deposit scheme is very handy for you and your exhibitors, it helps you to attract the early birds and spreads their costs. We operate a % deposit upon approval, pay later balance due plan.
Step 1 - Create your event or our team can do this for you using all your information.
Step 2 - On the business details page ensure the correct event start date is entered.
Step 3 - On the Exhibitor Package area, check and complete the boxes below accordingly:
Deposit rate type the deposit rate in %. We will, at check out, calculate this for the exhibitor based on their total order value. We have found from experience that % is better than £ due to the cost of the total order, not the stand/pitch.
Active from is the date you want to go live with the scheme. We will set it to todays date automatically.
Active until is the date you wish to take the deposit scheme off your site and the event page and anyone applying as of that date will need to pay in full. We will automatically remove the deposit scheme option at check out. We suggest no less than 45 days prior to your event. We will automatically set this for you if you do not enter a date.
Balance due date is the date you need all deposit payers to pay their balances. We suggest no less than 35 days before your event. However, we will automatically set this date using your event start date in the Business details section.

Step 4 - Optional - It is possible to have two deposit schemes running sequentially e.g. Your event is held in August the following year, your early birds from your recent August event might benefit from a 25% deposit scheme until 31­/12/20 and then pay their balance due by 01­/04/21. On 01­/01/21 at 00.00 the system changes the deposit scheme to 50% with the balance due to be paid 35 days prior to the event. Or, you could have both balance dues from both deposit schemes falling due on the same day. Reminders about their balance due will be sent to your traders 10 days prior.
Step 5 - At the bottom of the page, Click Save.
What happens then?
Event Owl creates a deposit payment option at 'checkout' for the exhibitor. You will be able to see if the exhibitor has paid a deposit or paid in full on your Exhibitor list and on their order form.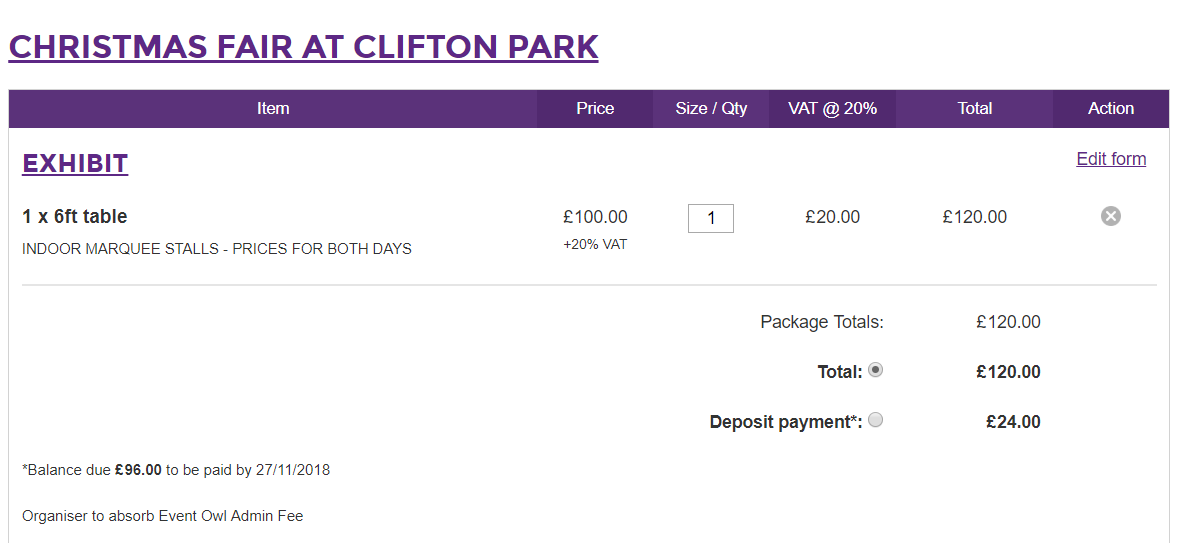 Upon your approving the application, the deposit payment is taken and if all is well, we send the exhibitor their approval email and a reminder about their balance due date. This is also displayed on their receipt.
Event Owl automatically sends both reminders about the due date, and warnings to the exhibitor if their deposit or balance due payment fails. We remind the exhibitor of their obligations and provide instructions on how to rectify this 'oversight'. If they wish to pay ithe balance due earlier just ask them to follow the link to the Exhibitors FAQ's here. If there is a card issue it's covered here.
99% of exhibitors using the scheme (and this applies to any form of 'credit' payment offer, be this any online or on a paper system) will pay on time, the remaining 1% will be chased for you three times by the system in two subsequent days thereafter. We will steer you in the right direction if our chasing fails by sending you an email telling you the exhibitor has not paid.
However, the final chasing of any outstanding payment is down to the event organiser, sadly this is because we cannot gaurentee a traders bank account will have the funds needed, so you may have to make a decision as to whether you still require the none payers attendance. If you wish us to chase them we can do this, but this is not included in the admin fee so we will need to charge you extra to pay for phone calls and our time at £7.50 per Exhibitor missing a payment.
Deposit payments are paid into your bank account at the same pace rate as payment in full. You should keep an eye on your Stripe account which advisies you as to why any payment failed in more detail.
Notes:
1. Any discount you give your trader will be taken off on the balance due payment.
2. If the deposit was not chased by you and they have not paid by the time the balance payment is required, the exhibitor will need to make TWO payments, the deposit and the balance due, so please could you keep an eye on your exhibitors to ensure they pay their deposits first so they are not left to pay a large sum in one go.